Apply robust job role benchmarks to successfully hire, develop and retain the people you need.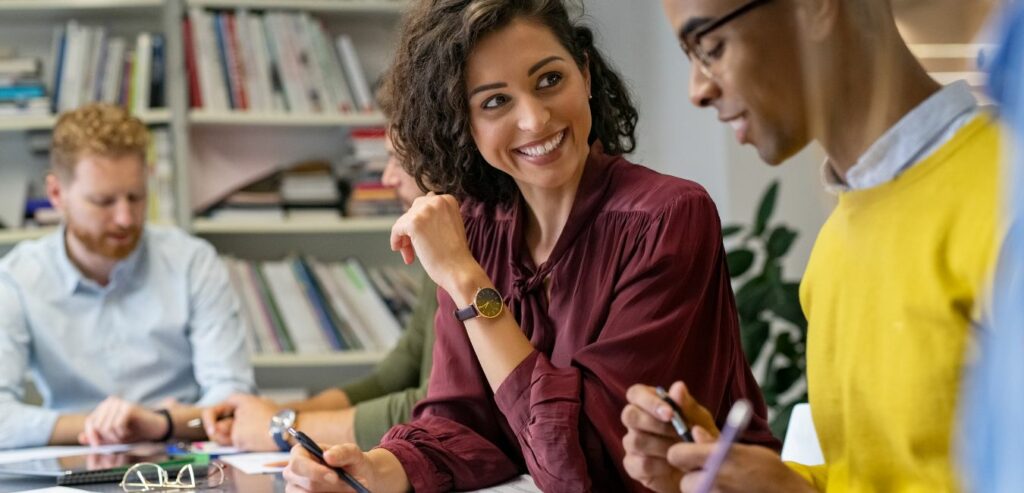 Hiring decisions can be risky business. The uncertainty of whether that person really has the skills for the role. Will they gel with the team and your culture? Do they have what it takes to be a great and inspiring leader? Will they be resilient enough to tackle change and challenge? And even when you hire right, there's still a significant cost attached, both in direct recruitment costs and also the inevitable dip in productivity while they find their feet. Get this decision wrong, and you risk losing the people you most want to keep hold of.
Yet much of this uncertainty can be mitigated by using a forensic retention-focused approach to recruitment, selection, and onboarding. Benchmarked job roles enable recruiters and hiring managers to make strong, well-informed decisions that greatly enhance the long-term retention of both your new hire and existing cohort. Hire people with the right skills and traits for the role and your culture. Build their trust in and loyalty to your organisation and develop a positive workplace culture where they feel valued.
Develop a benchmark-based approach to employee retention:
Identify the skills and that the job requires
Attract candidates who meet job role requirements
Strategically onboard and develop your talented people for long term retention
Identify the skills and personality traits that you are looking for
Gather together the views and experiences of stakeholders to the role. Co-workers, reports, managers, and senior leaders. You'll gain a 360 view of what the role requires, not just the opinion of one person who may well be out of touch. Through this process, all stakeholders will feel that they have been heard and the needs of their roles taken into account.
This is especially important when recruiting team leaders who will manage both direct reports and the expectations of the senior managers. A fine line to walk at the best of times.
As job roles and organisational objectives evolve, a consistent approach to job role benchmarking means that you can always keep in step with the changing needs of the job, rather than hire in the past. In recent years, we have witnessed the move to more empathetic leadership. While the traditional command and control style may still have a place, today's workers place increasing value on leadership that is based on self-awareness, emotional regulation, and fairness. Understanding the mix of personality traits and power skills an individual would need to make such a manager, not only increases the chance of them staying in your organisation, but also a greater likelihood of keeping teams intact for longer. Get this wrong however, and you could have a mass exodus on your hands.
Tailor your job adverts and application forms to attract the right candidates
Use the insights from your benchmark profile to create an advert and application which appeal to your perfect future candidate.
Think of your potential candidates as customers that you want to reel in. In today's competitive talent market, you cannot afford to lose a possible stellar hire because they were put off by your advert and application process. Your benchmark will give you appropriate language that resonates with your candidate, as if you were marketing directly to them. It's a waste of your time to sit through 100 applications from a generic advert to find just one or two that are worth taking to the next stage. Avoid this by directly targeting your ideal candidates.
The benchmark profile can also inform your application questions. For example, if you know that you are looking for a 'big picture' McQuaig generalist-type candidate, asking for detailed answers to twenty questions, especially ones that are not relevant to the role is likely to alienate them. You need to make the application process straightforward and compelling, especially if you are to attract latent/passive talent.
You have your job role benchmark and you have a group of candidates. Now to match the latter against the former. Psychometric diagnostics allow you to identify fit, which if your advert and application process were appropriately constructed, should be pretty close.
Remember that you are recruiting to retain. Don't be swayed by impressive looking candidates who are an otherwise poor match. They may have all the talk at the interview or connect with your hiring manager on a personal level (the old 'you remind me of me' story). The reality is these factors do not make for a long-term success story. Remain true to the benchmark, it is there for good reason.
Assessing against a benchmark may not result in a 100% perfect fit. However, it does enable you to put in place a development plan from the very beginning.
Perhaps your new hire has less self-confidence in some situations than the role ideally requires. As this is a skill that can be improved, you could include coaching to help your naturally imperfect hire develop in this area. While this could be a relatively low level intervention, the result may well be very significant. Confident (not arrogant) people tend to make robust decisions, enjoy the goodwill of their co-workers and make a positive contribution to workplace culture. All of which, of course, are major factors in keeping hold of your valuable talent throughout your organisation.
Create positive workplace culture to improve talent retention
We help organisations of every size and sector, from the start-up to the well-established, to create and optimise their talent retention strategies through positive workplace culture. Talk to our team of expert consultants and coaches to learn how we can do this for you.
Contact us to learn more.