Equip your leaders with the skills they need to create effective workplace cultures and strong relationships.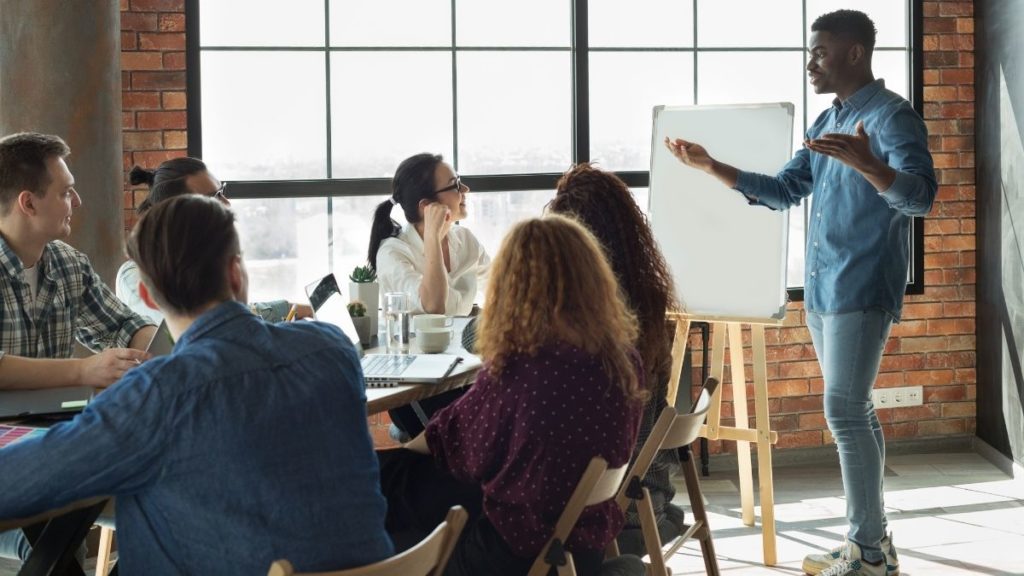 We expect a great deal from our leaders. This applies to the team leader and shift supervisor, just as much as it does to the CEO. Yet too often leaders are inadvertently set up to fail. Often promoted for excellent 'on-the-job' performance, new leaders aren't always allowed the time and space for training and development, nor given the leeway to learn from their errors. This can result in impostor syndrome and poor leadership as they attempt to conceal their shortcomings.
This doesn't just apply to new leaders. It's a serious concern for established leaders too. Let's take the all too common example of experienced leaders who do not understand financial terminology as well as they know they should. But, too self-conscious of their knowledge gap, they don't seek clarification. We wonder how many organisations have failed simply because a leader didn't understand what goes where on the balance sheet.
There are also those leaders who have been promoted based on performance in their previous role, but who have poorly developed emotional intelligence skills. When suddenly faced with having to manage people and their varied personalities, these leaders find themselves ill-equipped. Combine this with a lack of self-esteem and/or self-confidence, emotional regulation and emotional awareness, they will often fail to set the tone for effective and healthy workplace relationships.
Strong leaders must have two sets of skills:
Both skillsets are critical to success. For example, communication is only effective when delivered using strong human skills.
Bespoke leadership development with Holst
Holst's leadership development is bespoke-designed to achieve your organisational objectives. Choose from an extensive portfolio of training workshops in The Holst Series. These cover communication, finance and facilitation, and creativity and innovation, including globally acclaimed thinking tools from the late Dr Edward de Bono.
Focus on the context of your leader, perhaps concentrating on two or three areas for development, to make a significant difference to performance. Once these skills are comfortably in hand, move on to other competencies within the framework of the development programme.
Understand the individual
To become a more effective leader will require a change in the individual's mindset and the use of their human skills to adjust their behaviour in the role. We understand that this can be uncomfortably challenging. However, if organisations do not address the root causes of why leaders act the way they do, the chances are that the behaviour won't change.
No two leaders are the same. Herding a whole group robotically through a 'one size fits all' programme is unlikely to yield the desired result. Leadership programmes will yield poor results if not planned well. It's important to make sure your leadership development programme addresses the needs of each individual and the organisation. What will make the difference between ambivalence and enthusiasm on the part of the leader, is how the individual is guided, coached or mentored through the process.
Holst's bespoke leadership development programme starts with assessment of the individual. This enables both the leader and their support system (HR/coach/mentor) to understand what makes that person tick. We use flowprofiler® to learn how the individual uses their human skills (emotional intelligence/resilience/motivation) both day-to-day and when under pressure. This opens up the individual to accept that with training they can tackle their speaking-in-public anxiety or better manage difficult conversations with direct reports and senior managers.
We use the McQuaig 360 Leadership Review to give the individual robust and constructive feedback on their performance as a leader. Supporting this, the McQuaig Self Development Survey® provides an action plan for the individual to follow throughout the programme.
When used together, flowprofiler® and McQuaig work seamlessly to help new and established leaders to improve their performance, align with organisational values and meet organisational objectives.
Align your leadership development with your strategic initiatives
As we mentioned at the top of this piece, we expect much from our leaders. We want them to be resilient and tenacious, collaborative and inspirational, empathetic and nurturing. They must be optimistic and able to listen to healthy conflict.
But is your organisation really practising what it preaches? Have you identified the values and initiatives that will create the conditions for success? If you expect much from your leaders, clearly define the standard by which you will measure them first.
Whether you have already crafted your strategic initiatives or if it's still a work in progress, the bespoke nature of Holst leadership development programmes mean that we work with you to create a strategy to meet your organisational objectives. Our programmes work towards an agreed end date to allow for effective evaluation and set the next steps for the individual and the organisation.
"Companies can avoid the most common mistakes in leadership development and increase the odds of success by matching specific leadership skills and traits to the context at hand; embedding leadership development in real work; fearlessly investigating the mind-sets that underpin behaviour; and monitoring the impact so as to make improvements over time." McKinsey.com
Focus on your leaders with Holst's tailored leadership development programme
Equip your leaders with the skills they need to create effective workplace cultures and strong relationships. Talk to us about leadership development with flowprofiler®, McQuaig and The Holst Series.
flowprofiler® and associated marks are registered trademarks of Chalmers International Limited | All rights reserved
eqflow® and associated marks are registered trademarks of Chalmers International Limited | All rights reserved
resilienceflow® and associated marks are registered trademarks of Chalmers International Limited | All rights reserved
motivationflow® and associated marks are registered trademarks of Chalmers International Limited | All rights reserved