Identify, nurture and grow the internal talent in your organisation to fill future leadership and business critical roles.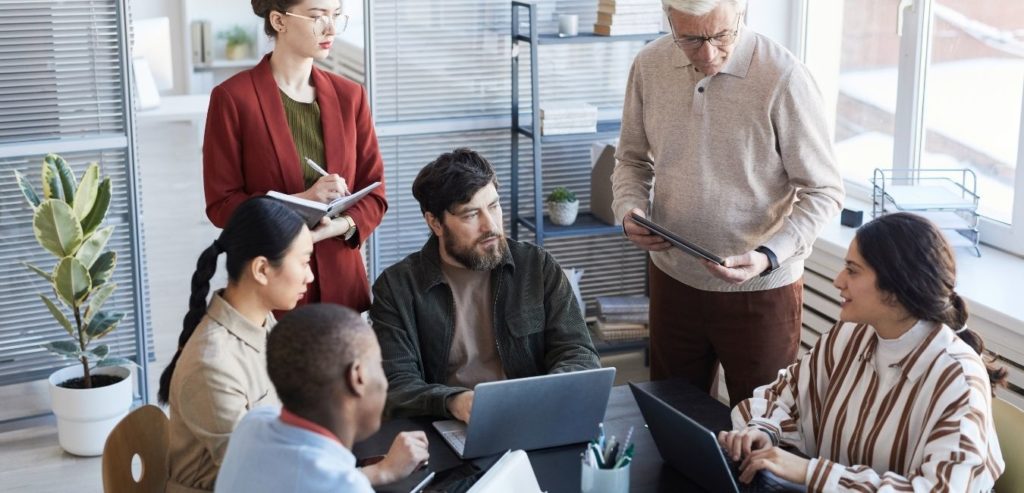 The spectre of the great resignation (the term coined by US academic Anthony Klotz for the wave of pandemic "quits") looms over organisations across the world. A BDO survey from November 2021 revealed the deepening UK staffing crisis with more than 25% of firms reporting that a lack of staff is affecting their ability to operate. It's not perhaps necessary to treat existing employees with the kind of 'seductive, assiduous attention they bring to hiring new staff'. But it is time to recognise that human connection, professional progression and personal fulfilment are the real draw to work. While a new hire is often absolutely the right choice, succession planning gives organisations the opportunity to establish over time those human connections in order to build, retain and promote valuable homegrown talent.
Successful organisations will be those who can retain their homegrown talent and strategically further develop it. It's important that organisations balance their external and internal recruitment. External hires might bring a fresh approach, while internal succession planning encourages a sense of stability. It's important to get the right mix.
Succession planning can help retain talented individuals as they are aware of internal opportunities to progress their careers. It's therefore central to the internal element of talent management programmes. CIPD (Nov 2022).
Best practice succession planning requires a long-term approach
This starts with the organisation itself. Senior leaders should identify the organisation's objectives and values. This first step is critical to create an environment in which your people can thrive and engage. A workplace where line managers and senior leaders are able to perform well in their roles. A recent survey found that 26% of those who manage or supervise people at work have never had management training. A strategic succession planning strategy will help you to identify gaps and develop the skills that your potential and current managers need to be effective.
Having identified your organisational values and objectives, it's possible to identify the skills and behaviours that your roles require. This is a team effort on the part of the stakeholders: direct reports, line managers, senior leaders and internal customers. All have an important role to play in the benchmarking process. Benchmarking by stakeholders ensures that your organisation does not promote 'identikit leaders' or allow bias to influence hiring and promotion decisions. Diversity and inclusion is critical to innovation and development. Hiring or promoting in the image of a small subset of what is perceived to be successful will eventually hinder growth and reduce your talent pool.
Consider your current top performers
Your top performers' skills and behavioural traits will help to strengthen your benchmark. Use assessments such as flowprofiler® and McQuaig to identify the behavioural traits and human skills of emotional intelligence, resilience and motivation to get a comprehensive picture of what creates success. Even if there are gaps in their skill sets, this will form an important part of your benchmark.
At this point also look at how your top performers operate as a team. This could be as a senior leadership team, but team assessment is also highly valuable at more junior levels. In order to work creatively, teams should include a diverse set of skills and traits. It's important to include this in your benchmark process.
With your benchmarking in place you can look towards your potential top performers. Be prepared for a few surprises. Your benchmarking process may bring to light a balance of skills and behaviours that has not been historically considered important. Perhaps the role now requires a leader with greater emotional intelligence or sociability. Or perhaps that team role benefits from a high degree of adherence to process or from being better able to cope with setbacks.
The upturn in hybrid working adds another dimension to your succession planning. Team members and leaders need to be able to work together both remotely and in person. With this in mind, It is likely that the internal talent you need now will be different to that of yesteryear, and may need more support/development to be effective in the role.
Bespoke development programmes for best practice succession planning
Having identified, assessed and fed back the results to your internal candidates, you can set in motion a targeted development programme. You'll have the insights to really get to the heart of what your roles require for success and the gaps that your talented people may have.
At Holst, we work with organisations to deliver bespoke development programmes which support your organisational values and initiatives. The earlier mentioned survey found that of those managers who receive regular management training, 77% said they liked or loved their current job. It's reasonable to assume from this that these managers are likely to be loyal to their employers and teams, and less likely to jump ship.
Use flowprofiler® and The Holst Series for best practice succession planning
Use flowprofiler® assessments, coaching and training in your succession planning strategy to develop emotional intelligence, resilience and motivation in your internal talent pool. This will enable you to promote the right people from within, tackle burnout and create an inclusive workplace culture.
The Holst Series is a comprehensive portfolio of professional development training which builds skills across creativity, communication, finance and leadership. Talk to us to learn how flowprofiler®, McQuaig and The Holst Series will enable your organisation to build a strong future, develop stability and create the conditions for growth.
flowprofiler® and associated marks are registered trademarks of Chalmers International Limited | All rights reserved
eqflow® and associated marks are registered trademarks of Chalmers International Limited | All rights reserved
resilienceflow® and associated marks are registered trademarks of Chalmers International Limited | All rights reserved
motivationflow® and associated marks are registered trademarks of Chalmers International Limited | All rights reserved