<![CDATA[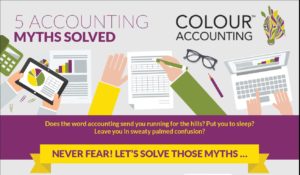 Business finance is often left in the hands of the professionals. Sure, by all means hand over your paperwork to the accountant for your annual tax return. But that doesn't mean you need to stick your head in the sand for the rest of the year.
The idea that you need to be a 'numbers person' or some kind of maths genius to understand the rules of basic business finance is just one of many accounting myths. Accounting often has far more to do with literacy than numeracy.
Accounting Myths
Take the words revenue, income, sales, earnings and turnover for instance. What do they mean to you? Different things or the same?
We're not going to tell you now, but head over to our terrific recorded webinar 'Crack Accounting Jargon' for the answer.
Using the words of Colour Accounting™ trainer Grant Forsyth, we've created an infographic to bust some of those accounting myths once and for all. We hope that it will help any non-finance manager, entrepreneur or small business owner to take the financial bull by the horns.
When accounting is taught in a fun, interactive and, most importantly, relevant way it's easy to learn. No spreadsheets, just simple numbers, plain English explanations and a trainer who is 100% on your side.
Begin your journey towards Financial Literacy with Colour Accounting™.